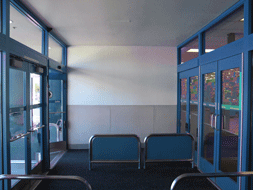 Have you been injured in an automatic door accident at a Walmart, IKEA, Wawa, CostCo., Target, Home Depot, Lowe's or other retail establishment or medical facility? Automatic, sliding (which include elevator doors) and revolving doors are in most offices, schools, malls and hospitals.
In the unfortunate event you have been the victim of a sliding door accident you may be entitled to benefits, medical care as well as significant financial compensation. Some of these benefits and forms of compensation may be lost wage compensation, pain and suffering compensation, medical care and lessened quality of life compensation.
For a free case evaluation with our injury lawyers handling automatic door injury lawsuits please contact the catastrophic injury lawyers @bowerlawmd for a free case evaluation. They charge no fees if they are unable to obtain benefits and financial compensation on your behalf.
Our injury attorneys handling automatic door accidents handle these lawsuits across all of Maryland, Pennsylvania, Washington D.C. as well as the rest of the United States. 
How Automatic Door Accidents Happen
Everyday people walk through at least one automatic door without even realizing it as almost all buildings and retailers have them. They are in Giant Foods grocery stores, Safeway's and other supermarkets, office buildings, outlet, strip and shopping malls, shopping plazas, town centers, medical facilities and hospitals, schools, home stores, etc.
Due to a door malfunction automatic sliding doors do pose an injury threat to patrons, customers as well as employees. They often work autonomously, opening in response to someone approaching the door's sensor.
However, when there is a malfunction or defect in the automatic door sensor, or if the sliding door isn't properly maintained by the property owner, the patron or customer can experience injuries that can result in damages that can be incredibly difficult to recover from fully. If you have been injured by an automatic sliding door, as a result of the negligence or misconduct of a store owner or sliding door manufacturer you have every right to file a lawsuit against the party responsible for the damages.
When filing a lawsuit, it is in your best interest to seek representation from an expert lawyer experienced in handling cases of this nature. At our automatic door injury firm experienced accident attorneys can guide you through the often arduous process of building your case, filing your claim, and collecting compensation for your damages.
If you have any questions after reading this article, please feel free to reach out to our trial law firm for a free consultation by one of our award winning attorneys handling automatic door injury lawsuits.
Premises Liability & The Process of Filing A Lawsuit
All property owners are expected to uphold the reasonable safety and security of their patrons, visitors, and customers while on their property. Under Premises Liability law, if someone injures themselves on someone else's property as a result of the property owner's failure to properly fix hazards or warn their patrons of said hazard, the property owner is to be held liable for the damages the injured patron have endured.
Regarding being injured by an automatic sliding door, it is the property owner's responsibility to ensure the sliding door is properly maintained. They are also expected to warn patrons of the potential hazard within a reasonable amount of time. When filing an automatic door accident lawsuit against a property owner, it is incredibly important that you collect all the evidence you can immediately after the incident takes place.
This evidence can include photographs, video footage, eyewitness accounts, medical bills or records, and police reports. It is also important that you report the incident to a property owner or staff right after the incident takes place. The longer you wait to collect proper evidence, the more likely a property owner will dispute your case in court. Proving negligence of the property owner's expectation to maintain the premises is also required of having a satisfactory outcome to your lawsuit. To successfully establish negligence you must be able to show that the following is evident in your case:
Duty: The plaintiff (injured or damaged party) must be able to show that the defendant (mobile home park owner) owed a legal duty to the plaintiff under the particular circumstances of the case.
Breach: The plaintiff must be able to show that the defendant breached said legal duty through specific actions or failure to act appropriately
Causation: The plaintiff must be able to show that the defendant's actions or lack thereof caused the plaintiff's injuries
Damages: The plaintiff must be able to show that they endured some specific damages. This can usually be shown through the presentation of medical records, a loss of wages, or a loss of potential income
Timeframe For Filing An Automatic Door Injury Claim
Once the negligence of the property or store owner is proven, it is important to understand and make particular note of the statute of limitations that influence your case. The statute of limitations is the period in which a plaintiff or injured party has to bring their case to court. These timeline rules can change from state to state, and can also vary depending on the nature of your particular case. In some states personal injury lawsuits have to be filed against property or store owners for an automatic sliding door accident within two years from the date of when the incident occurred to present their case to court.
Other states offer a 3 year window. However, there are some exceptions and nuances involved in the statute of limitations, so it is in your best interest to seek representation from a skilled lawyer experienced in cases of this nature.
Automatic Sliding Door Defects & Product Liability
In some cases, liability for automatic sliding door accidents doesn't always fall on the property or store owner. Like all products, automatic sliding doors can be manufactured with defects that result in causing injury to the patrons or customers of the store. In this case, the manufacturer of the automatic sliding door would be found liable for the resulting damages. Under product liability laws, companies are expected to provide consumers with products that are safe, however, when a product causes injury said the consumer has every right to retain an experienced lawyer to help them sue the company for damages.
However, when filing a product liability lawsuit, it is necessary that you can identify what company was responsible for the product defect. In most cases, some companies help move a product from the design floor to the retail store, and any one of these companies can be held completely liable for the damages. Listed below are the three common areas where a product defect typically occurs:
Design Defects: These are the defects that can occur before the product is sent to the assembly line. The defects that occur in this stage of production are faults that make the product inherently dangerous. In most cases, these defects can lead to full-scale product recalls, and the company which organized the design of the product could be held liable for the damages.
Manufacturing Defects: These defects typically occur on the assembly line of the product. They can range from minor mistakes along the manufacturing chain to reoccurring errors that can result in large recalls. In these instances, the manufacturing company could be deemed responsible for the damages.
Marketing Defects: These defects occur during the marketing of a specific product. These defects include things like improper labeling, insufficient instructions, or inadequate safety warnings.
Regardless of where the defect occurred, it is highly recommended that you seek representation from a qualified attorney with experience in handling automatic sliding door defect lawsuits.
Let Our Elevator Door Injury Attorneys Help
Our aggressive and skilled litigators will handle every aspect of your lawsuit for the injuries caused by an automatic, elevator or sliding door. Injury victims allowing our legal team to file their lawsuits who file a claim will get all possible damages including:
Past, current as well as future medical expenses
Past, current and future lost wage compensation
Emotional, mental and psychological compensation for anxiety, depression, PTSD, pain and suffering
Lessened quality of life compensation
Compensation from third party vendor such as door maintenance company
Disability compensation if applicable
Suffering an injury due to an elevator or automatic door misfire can end in serious bone breaking injuries. By no means do you have to face a this alone. Luckily our elevator door accident attorneys have expertise in fighting companies and property owners for allowing their automatic sliding doors to cause injury to others. Please contact our attorneys handling automatic door injury lawsuits for a free case analysis. They charge no fees if they are unable to obtain compensation for you.