In a study conducted by the National Highway Traffic Safety Administration (NHTSA), the most common cause of distraction leading to a rear-end collision involved, in some manner, the use of a cell phone by the driver. While rear-end accidents may result in bumps to the car in front, others create a dangerous impact. Twenty-nine percent of all rear-end accidents result in injuries ranging from mild to severe. The aftermath of such an auto accident can leave you injured and overwhelmed, and you need time and resources to help you heal. Let our Maryland personal injury attorneys help you through your car accident case and deal with the insurance companies and the negligent driver.
Common Causes of Rear-End Accidents in Maryland
Even if you follow all the rules of the road, that doesn't mean other drivers will as well. Rear-end accidents can result due to several different behaviors by an at-fault driver. Common causes of rear-end collisions often include the following.
Reckless Driving
Reckless driving is a major cause of many types of car accidents, including rear-end collisions. Drivers who break traffic laws can easily crash into the back of your car. Whether they are speeding, making sudden lane changes, swerving, or otherwise acting recklessly, they are dangerous to themselves and the vehicles around them. They cannot stop quickly and may hit you, usually with great force.
Distracted Driving
Too many drivers today get behind the wheel of a car and become distracted, failing to focus on the road and safety. Cell phone use, such as sending text messages or talking on the phone, is a major cause of distraction on the road. Drivers can also become distracted when they choose to eat, apply makeup, or even reach for something and take their eyes off the road. A distracted driver may hit you from behind while you are stopped at a red light, stop sign, or pedestrian crossing.
Malfunctioning Brakes
While everyone is responsible for maintaining their vehicles, some people drive with malfunctioning brakes. Even if they see you ahead and apply the brakes, they may not be able to stop and could end up colliding with the back of your car.
Driving Too Closely
To maintain enough time to react and stop, drivers must maintain sufficient following distance between themselves and the vehicle in front of them. Driving too closely, such as by tailgating, can result in a rear-end collision if the vehicle in front of you stops suddenly.
What Are the Steps to Take After a Rear-End Accident in Maryland?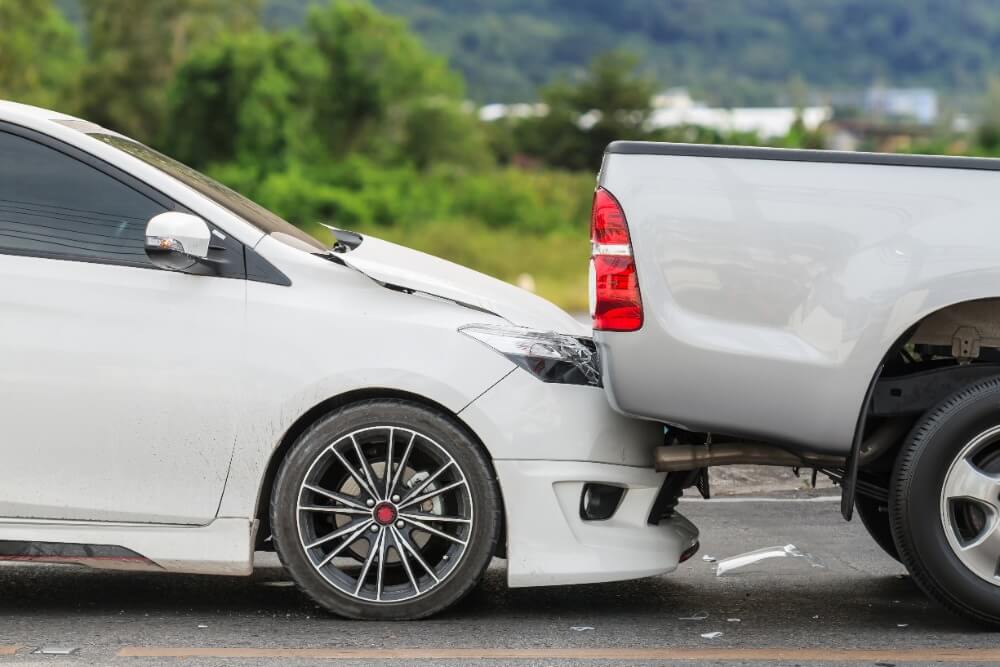 If you are in a rear-end car accident in Maryland, you should follow these steps.
Seek Medical Attention
Your health and that of any passengers is the first priority following an accident. Seek medical attention for any visible injuries. Even if you are unsure and have no severe pain or discomfort immediately following the crash, seek a medical examination. Some symptoms of injuries, such as concussions and soft tissue injuries, may not show up for hours or days later.
Call the Police
Call law enforcement to report the accident. Once on the scene, they will prepare a police report that will become an important part of your insurance claim.
Gather Evidence
Exchange contact and insurance company details with the other driver, and get any witnesses' names and phone numbers. Use your cell phone to take photos of all the vehicles involved in the crash, your injuries, all property damage, and the surrounding environment (e.g., stop signs, traffic signals, etc.).
Hire a Maryland Car Accident Attorney
Insurance adjusters are not your friends. They work for the insurance company and will seek to offer you a low settlement, hoping you will resolve your claim quickly. This is why we recommend hiring an attorney so that we can report your claim and avoid any potential issues with tricky insurance company questions. The negligent driver should be held accountable, and you should receive the compensation you deserve. To help prove fault, hire an experienced Maryland car accident lawyer to represent you, establish liability, and negotiate a settlement.
File a Claim
Our firm will contact your insurance company on your behalf and file an accident claim as soon as possible. Letting our firm take this responsibility will limit the possibility of you unknowingly providing a statement about fault to insurance adjusters. A knowledgeable Maryland car accident attorney can help you communicate with insurance without jeopardizing your claim.
Who is Liable in a Rear-End Accident in Maryland?
In most rear-end accidents, the rear driver is the one who is at fault. Yet, not all crashes are so simple when it comes to liability. The lead driver may also be partially or fully at fault. For example, if the lead driver's actions contributed to the accident, they may be found partially or fully at fault for the rear-end accident. Maryland is a contributory negligence state, meaning if you are found partially at fault for the accident, you may be barred from receiving any damages.
What is Contributory Negligence?
Rear-end collisions can result due to some level of negligence by more than one driver. Contributory negligence is when an injured driver is found to have contributed in some way to the accident and resulting injury and, because of this, will not receive damages.
In other words, even if your actions only slightly contributed to the rear-end collision, such as faulty brake lights, you may not be able to recover compensation from the other party who is mainly at fault. If you are injured in this type of crash, and the claim is made that you contributed to the accident somehow, seek a free case evaluation from a Maryland attorney.
How Much Damage Can a Rear-End Collision Cause?
In a rear-end crash, the impact can be severe, and your vehicle can sustain major damage. For example, the impact can damage the drivetrain, exhaust system, and car frame leading to the need for several repairs. At the very least, you will have a dented bumper and busted taillights.
How much impact can a rear bumper take?
The rear bumper of a vehicle is designed to help avoid major damage when hit by a vehicle driving at approximately 2.5 miles per hour. In most cases, there will still be a visible dent, but your car will remain safe and functional.
What Factors Might Affect Who is At Fault in a Rear-End Collision?
Factors that may affect determining fault in a rear-end crash include the following.
Backing into a Vehicle
If a driver backs up, they may risk backing into another vehicle and causing the crash. Maryland law specifically states that drivers may only back up if it is clear and safe to do so.
Brake Checking
If a car is tailgating and the front driver taps on their brakes to get them to back off, it is called brake checking. When this occurs, the driver in front can be found at least partially at fault for the accident.
Multi-Car Collision
A hit from behind can push the lead vehicle into another car, causing a multi-car collision. These are called chain reaction accidents and involve a minimum of three vehicles. As a result, there can be more than one party at fault, depending on the circumstances surrounding each involved vehicle.
Injuries Sustained in Rear-End Collisions
Rear-end accidents can result in injuries ranging from mild to severe. The most common ones include the following.
Neck Injuries
A rear impact can cause your head and neck to experience sudden movement, snapping back and forth quickly. These movements often cause whiplash as nerves and tendons in the neck are stretched.
Spinal Injuries
Sudden twisting or extending of the spine can lead to serious injuries, including herniated discs. If the impact is severe enough, it can even result in damage to the spinal cord itself.
Broken Bones
Various bones can break during a rear-end collision, including in the hands and feet. Your ribs or your pelvis can also break from the strain of your seatbelt keeping you in place.
Soft Tissue Injuries
Damage to muscles, tendons, and ligaments is called soft tissue injuries. Soft tissue injuries frequently occur in accidents, ranging in severity from mild bruises and sprains to closed head injuries.
Compensation After a Rear-End Accident
If you are the non-liable party after a motor vehicle accident in Maryland, you may be able to receive compensation for damages. In cases of driver negligence, Maryland law requires that you file your injury claim against that negligent driver within three years from the accident date. Your claim can include economic damages (e.g., medical expenses, lost wages) and non-economic damages (e.g., pain and suffering).
There are certain circumstances, however, where proper notice deadlines fall before that three-year statute of limitations, and if you fail to give notice in a timely manner, you may not be eligible to recover damages at all. Contact Bowers Law immediately to determine if this type of notice is required in your case and for help navigating the legal complexities following your accident.
How Much Compensation Can I Get After a Rear-End Accident in Maryland?
The compensation you can obtain after a rear-end accident will depend on several factors. These factors include the severity of your injuries, how long you are unable to work following the car crash, whether or not you contributed in any way to the accident, the treatment necessary to recover to pre-accident condition, and the overall impact the situation has on your day to day life. 
To understand how much compensation you may receive for your specific case, schedule a free no-obligation consultation with our dedicated law firm.
Rear-Ended Pain and Suffering Settlement
Not all damages sustained in an accident are visible. Pain and suffering can affect your life long into the future, both physically and emotionally.
Calculating damages for pain and suffering following a rear-end accident can be complicated as they are much harder to quantify fully. While there is no exact formula, an experienced personal injury lawyer can help find an amount that closely reflects your level of pain and suffering and seek a settlement on your behalf.
Reasons to Hire an Attorney After a Rear-End Accident in Maryland
Following a rear-end accident in Maryland, you need to take all the right steps to have the highest chances of obtaining compensation from the insurance companies. You need a knowledgeable Maryland injury attorney who knows how to navigate the process.
Your Maryland car accident attorney can:
Take away the stress and hassle of answering phone calls from multiple

insurance companies

and adjusters

Collect all

medical bills

and records related to the loss

Assure that the list of collected

medical bills

and records is complete (some medical providers have multiple bills for the same visit)

Increase confidence that all medical expenses are paid by insurance or settlement proceeds with no lingering bills after the case resolves

Help determine

who is at fault

and if there are any other liable parties

Use their experience in dealing with most

insurance companies

, understanding their "playbook" and how they operate to resolve claims

Utilize knowledge of case value, so to seek a resolution that is fair

File a lawsuit when necessary, and keep

insurance companies

as honest as possible
Even if you are unsure whether you have a case, you can still schedule a free consultation with our team.
Let Us Deal with the Insurance Companies
If you have been hit by a driver traveling behind you and sustained injuries, you need compensation to help pay for medical bills, lost wages, pain and suffering, and potentially more. To help file your claim, negotiate with insurance companies, and obtain a fair settlement, seek the help of the Maryland car accident lawyers at Bowers Law. Call or text us today at 667-220-6500, or use the online contact form to schedule a free consultation and case evaluation.